Call Of Duty Black Ops III Steam CD Key
Treyarch, le développeur des deux jeux les plus joués de l'histoire de Call of Duty, revient avec Call of Duty : Black Ops III. Bénéficiant pour la première fois de trois ans de développement, le studio maintes fois récompensé revient, pour la première fois sur les consoles de nouvelle génération, avec l'incontournable série Black Ops. Bienvenue dans Call of Duty: Black Ops III un future sombre et complexe où un nouveau type de soldats Black Ops voit le jour. Les frontières se brouillent entre humanité et avancées technologiques, dans un monde où la robotique militaire de pointe régit la guerre. Call of Duty: Black Ops III combine trois modes de jeu uniques : Campagne, Multijoueur et Zombies, offrant aux fans le Call of Duty le plus ambitieux et le plus riche jamais créé. La Campagne a été conçue comme une expérience coop qui peut être jouée jusqu'à 4 joueurs en ligne, ou en solo pour une expérience cinématique riche en sensations fortes. Le Multijoueur sera le plus complet, le plus gratifiant, et le plus engageant de la franchise, avec des nouvelles manières de progresser, de personnaliser, et de s'équiper pour la bataille. Le mode Zombies propose, quant à lui, une toute nouvelle expérience époustouflante avec une histoire qui lui est propre. Call of Duty: Black Ops III peut être joué intégralement en ligne, et pour la première fois, chacun de ses modes bénéficie de ses propres systèmes de progression et d'XP de joueur. Le titre amène un niveau d'innovation sans précédent, avec notamment des environnements stupéfiants, un arsenal et des compétences jamais vus auparavant, et l'introduction d'un nouveau système de mouvements encore plus fluide. Tout ceci prend vie grâce à des technologies avancées, développées spécialement pour ce titre, à l'image de nouveaux systèmes d'IA et d'animation, ainsi que des graphismes qui vont redéfinir les standards que les fans de Call of Duty attendent, avec des systèmes de lumière et des effets visuels de pointe. DÉCOUVREZ UNE NOUVELLE ÈRE DE BLACK OPS : Call of Duty: Black Ops III déploie les joueurs dans un futur où la biotechnologie a engendré un nouveau type de soldats Black Ops. Désormais, les joueurs sont connectés en permanence au réseau de renseignements et à leurs coéquipiers durant le combat. Dans un monde plus divisé que jamais, l'unité d'élite se compose d'hommes et de femmes aux capacités décuplées : plus forts, plus rapides et plus intelligents. Ces soldats d'élite seront envoyés dans des zones critiques, confrontés à l'inattendu et amenés à prendre des décisions cruciales.
ACHETER MAINTENANT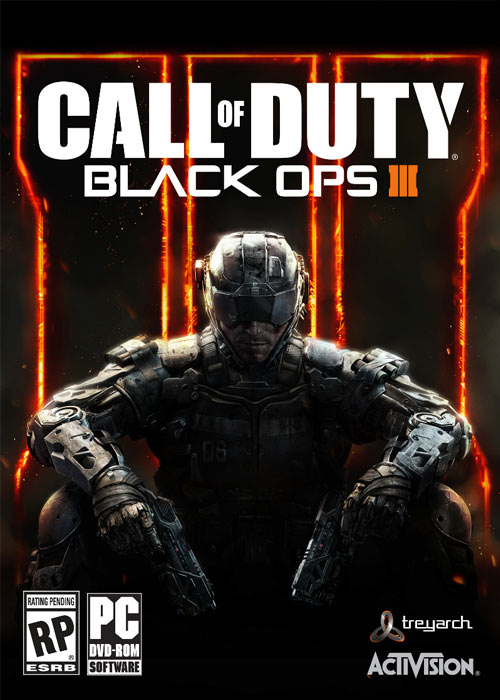 Plateforme:
Région:
Mots clés: FPS
Stock:
Avoir de produits en stock
Description du produit
Call Of Duty Black Ops III is region-locked and CAN'T be activated in the following countries:Japan, United Arab Emirates, Saudi Arabia, Qatar, Kuwait, Bahrain, Oman, Iraq, Syrian Arab Republic, Yemen, Egypt, Lebanon.

It works on Steam and PC.
Welcome to Call of Duty: Black Ops 3, a dark, twisted future where a new breed of Black Ops soldier emerges and the lines are blurred between our own humanity and the technology we created to stay ahead, in a world where cutting-edge military robotics define warfare.
Black Ops III takes place in 2065, 40 years after the events of Black Ops II, in a world facing upheaval from climate change and new technologies. Similar to its predecessors, the story follows a group of black ops soldiers.As a member of the Black Operations Force, a player suddenly loses contact with half of his teammates during a survey in Singapore. This is due to a major military information leak that led to the failure of all kinds of secret activities on a global scale. The player's mission is to find their own team and expose the truth.
Call of Duty: Black Ops III combines three unique game modes: Campaign, Multiplayer, and Zombies, providing fans with the deepest and most ambitious Call of Duty ever.
Campaign--The campaign in Black Ops III is designed to support 4-player cooperative gameplay, allowing for bigger, more open level design and less corridor shooting.The campaign features its own progression system, featuring unlock tokens which must be used to acquire different weapons and gears as they progress through the campaign.
Multiplayer--The multiplayer introduces a new momentum-based movement system, which utilizes thruster packs to allow players to perform slow boosts into the air, as well as perform wall running and sliding, all the while giving players complete gun control.
Zombies--Zombies features a new XP progression system, which allows players to unlock items in a similar fashion to multiplayer and campaign.