Guild Wars 2 2000 Gem Card Global
Découvrez la magnifique Tyrie ! Façonnez son histoire et le monde qui vous entoure ! Héros et héroïnes des cinq grandes races, Charrs, Asuras, Norns, Sylvaris et Humains, doivent mettre de côté leurs querelles et s'unir contre les Dragons ancestraux qui se sont réveillés de leur torpeur, dévastant des continents entiers et pervertissant les terres et leurs habitants. Ces champions, enfin unis, représentent le dernier espoir de la Tyrie. Guild Wars 2 redéfinit l'avenir du jeu de rôle en ligne et propose des combats intenses regorgeant d'action, des histoires élaborées et personnalisées, des événements aussi épiques qu'innovants ayant un véritable impact sur l'environnement, du PvP à grande échelle, le tout sans abonnement ! La série originale de Guild Wars s'est vendue à plus de 7 millions d'exemplaires en Amérique du Nord et en Europe, et compte aujourd'hui encore une communauté active et fidèle. Guild Wars 2 s'appuie sur le monde riche et les mécanismes révolutionnaires développés dans le jeu original, mais se déroule 250 ans dans le futur, dans une Tyrie radicalement différente. Guild Wars 2 est développé par ArenaNet, à Bellevue, dans l'état de Washington, aux États-Unis. Ce studio de développement de jeux vidéo, comptant 250 personnes, a fait ses preuves dans la création de mondes en ligne vraiment innovants.
ACHETER MAINTENANT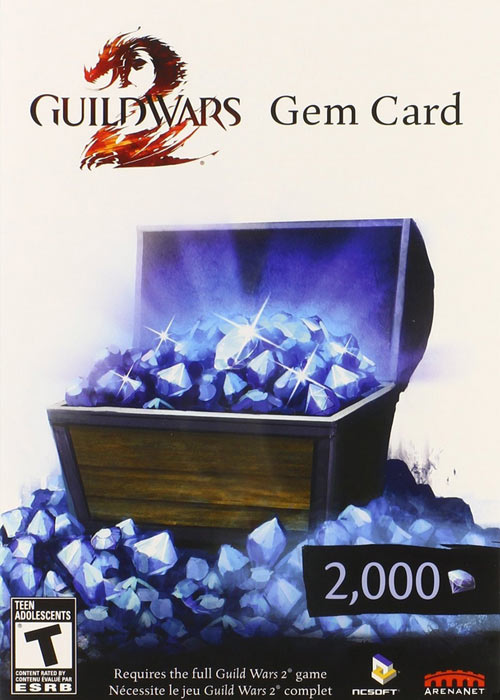 Nouveau (nouvelle) Chaud
Plateforme:
Région:
Mots clés: MMORPG
Stock:
Avoir de produits en stock
Description du produit
Global key for PC.

Guild Wars 2 is a massively multiplayer online role-playing game developed by ArenaNet. The game, just like its predecessor, does not require any subscription fees.

Guild Wars 2 takes place in the high fantasy world of Tyria, 250 years after the defeat of the Great Destroyer in the Eye of the North expansion. During the time between that event and the start of Guild Wars 2, five so-called Elder Dragons sleeping beneath the continent have awoken, causing widespread destruction to Tyria and corrupting its inhabitants. The role of the player is to reunite the disbanded Destiny's Edge, a multi-racial adventuring guild, whose combined strength is needed to effectively combat Zhaitan, the undead Elder Dragon.

In Guild Wars 2, you have the power to determine your fate. Now, with this Gem Card you also have the ability to instantly expand your wealth. The gems are the second currency in GW2 except Gold, with this product that you can fill your pockets with 2,000 Gems that you can use throughout your quest.

In addition, with gems you can also buy many different kind of items. This includes many specials like funny gimmicks as the Cow death stroke. Diverse fashion is available, means you can change your character even more individually.