Tom Clancy's Rainbow Six Siege Year 3 Pass DLC UPLAY CD KEY GLOBAL
Élargissez et améliorez votre expérience de jeu avec le Passe Année 3 ! Achetez le Passe Année 3 avant le début de la saison 1 de la 3e année et recevez la skin d'arme signature Acier de Damas.
Les détenteurs du Passe Année 2 qui achètent le Passe Année 3 recevront en bonus 600 crédits R6.
ACHETER MAINTENANT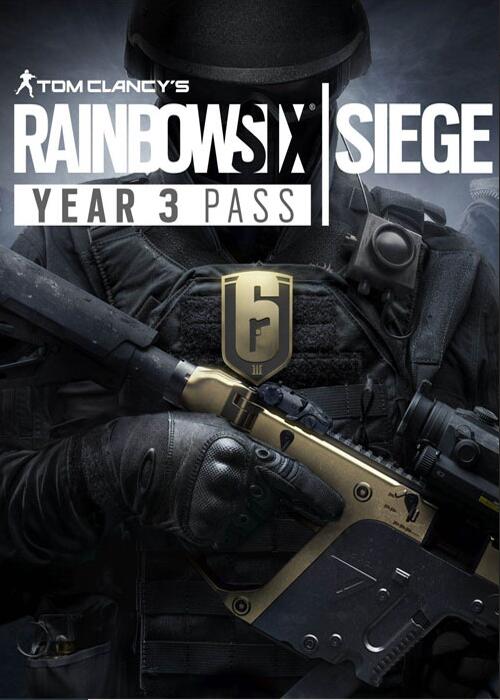 Nouveau (nouvelle) Chaud
Plateforme:
Région:
Stock:
Ne plus avoir de produits en stock
Description du produit
Extend and enhance your experience with the Y3 pass! Purchase the Year 3 Pass before the start of Season 1 Year 3, and receive the Damascus Steel Signature weapon skin. Year 2 Pass holders who purchase the Year 3 Pass will receive a bonus 600 R6 Credits.

With the Y3 Pass get access to a 1-year* VIP premium membership which includes:

YEAR 3 OPERATORS AND BONUS DLC
- 8 new Year 3 operators - 8 exclusive headgear and uniforms - R6 Charm - 600 R6 Credits
VIP PERKS
- 7-day early access to each season's new Operators. - 10% discount in in-game shop - 5% Renown boost - 0,3% Alpha Pack Boost

*VIP Membership ends January 31, 2019
**10% discount only applies to purchases made with Renown or R6 Credits. Tom Clancy's Rainbow Six Siege is mandatory to play the game (sold separately).