Assassin's Creed Syndicate Special Edition Uplay CD Key
Londres, 1868. La Révolution Industrielle déclenche un incroyable âge d'or des inventions, transformant les vies de millions de personnes grâce à des technologies qu'on pensait auparavant impossibles. Le peuple converge vers Londres afin de profiter des opportunités qu'offre ce nouveau monde. Un monde qui n'est plus contrôlé par les rois, les empereurs, les politiciens ou la religion, mais par un nouveau dénominateur commun : l'argent. Cependant, tout le monde ne profite pas des bénéfices qu'offrent ces bouleversements. Même si le moteur de l'Empire Britannique tourne à la force des travailleurs, ces derniers ne sont finalement pas plus que des esclaves payés une misère pendant que les nantis s'enrichissent de leur travail. Vivant pauvre et mourant jeune, la classe populaire s'unit alors dans un nouveau genre de famille – les gangs – se tournant vers la criminalité dans leur lutte pour survivre. Une lutte désespérée, jusqu'à ce que les Assassins les rejoignent et ravivent un conflit ancestral impliquant les dirigeants de Londres et qui résonnera dans l'Histoire, des bas-fonds jusqu'aux plus hautes sphères de la société. Découvrez pour la première fois l'Assassin Jacob Frye qui, avec l'aide de sa soeur jumelle Evie, changera le destin de millions de personnes dans Assassin's Creed Syndicate. Soulevez-vous, ralliez les gangs à votre cause et dirigez-les pour mettre fin à la corruption qui gangrène Londres dans une aventure exaltante mêlant action, suspens et combats brutaux. Caractéristiques principales LE PREMIER ASSASSIN DE L'ÉPOQUE MODERNE — Incarnez Jacob Frye, un Assassin impétueux et rebelle, et serrez les poings pour vaincre vos ennemis avec des éliminations multiples et des attaques de contre rapides comme l'éclair. Utilisez des tactiques d'infiltration améliorées pour tromper vos adversaires, puis mettez à profit toute la puissance de votre nouvel équipement comprenant un couteau kukri, des poings américains et une cane-épée. Profitez aussi de nouvelles technologies comme le lance-grappin pour escalader les bâtiments en quelques secondes et prendre vos ennemis par surprise. PARCOUREZ LE LONDRES INDUSTRIEL EN MONDE OUVERT — Du Palais de Buckingham au quartier de Whitechapel, combattez et triomphez dans le gigantesque monde ouvert du Londres de l'époque victorienne. Faites du parkour sur des véhicules en mouvement pour poursuivre vos ennemis ou vous échapper après une attaque ambitieuse. Volez des calèches et participez à des courses poursuite en pleine rue ou semez la destruction à bord de bateaux à vapeur naviguant sur la Tamise. DOMINEZ LE MILIEU DU CRIME DE LONDRES — Avec Jacob à sa tête, formez le plus féroce des gangs de Grande-Bretagne, la seule force capable de s'opposer aux nantis et de vaincre les gangs rivaux, pour redonner sa liberté à la classe populaire opprimée. Que ce soit pour infiltrer les repères ennemis, attaquer des trains ou délivrer les enfants travaillant dans les usines, vous ne reculerez devant rien pour restaurer la justice dans les rues sans foi ni loi de Londres. Contenu de l'Édition Spéciale L'Édition Spéciale comprend : - Le jeu Assassin's Creed Syndicate - 1 mission solo offrant 45 minutes de jeu supplémentaires : La Conspiration de Darwin et Dickens : Embarquez pour deux quêtes haletantes qui vous emmèneront dans les cercles rapprochés des hommes les plus influents de Londres. Protégez les découvertes de Charles Darwin de ceux qui voudraient le réduire au silence. Et aidez un ami du légendaire écrivain Charles Dickens à garder un secret qui pourrait lui coûter la vie.
ACHETER MAINTENANT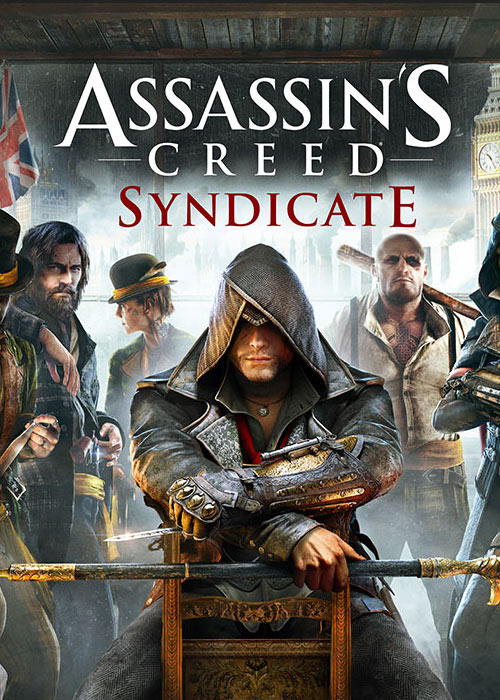 Plateforme:
Région:
Mots clés: ACT RPG AVG
Stock:
Ne plus avoir de produits en stock
Description du produit
CD key Information:
The Assassin's Creed Syndicate Special Edition Uplay CD Key is the serial number or product code which is a combination of letters and numbers that activates Assassin's Creed Syndicate, normally found on a sticker inside the game's case or printed on the game's quick reference card. The purchased Assassin's Creed Syndicate Special Edition Uplay CD Key is used to register and activate the relevant game. Depending on the product, we provide this in the form of a scan of the code or the actual code in text format.
Note: All of our products are delivered digitally in the format of a Assassin's Creed Syndicate Special Edition Uplay CD Key which can be activated on one the relevant platform shown above. In stock and welcome to order.