Bioshock Triple Pack STEAM CD KEY GLOBAL
BioShock: The Collection regroupe les trois jeux BioShock, remasterisés pour les nouvelles plateformes. Revisitez Rapture et Columbia, à la redécouverte de BioShock, la franchise au succès phénoménal. BioShock: The Collection reprend les trois aventures épiques de l'univers BioShock, magistralement remasterisées en haute résolution. BioShock: The Collection regroupe tout le contenu solo de BioShock, BioShock 2 et BioShock Infinite, ainsi que tout le contenu additionnel solo et le pack "Le Meilleur de Columbia". Contenu : • BioShock 1 o Jeu de base o Musée des concepts orphelins o Salles de défis • BioShock 2 o Jeu de base o Les épreuves de Protecteur o L'Antre de Minerve • BioShock Infinite o Jeu de base o Carnage céleste o Tombeau sous-marin : épisodes 1 et 2 o Pack "Le Meilleur de Columbia" Bioshock 2: Se déroulant approximativement 10 années après les événements du premier Bioshock, le scénario de Bioshock 2 intervient comme un lointain écho du passé. Un monstre terrifiant rôde le long de la côte Atlantique, enlevant des petites filles et les emmenant de force sous les eaux dans une terrible cité. Vous êtes à la recherhe de ces enfants, à travers cette cité décrépie, chassant les réponses aux questions qui vous assaillent... Bioshock Infinite: DESCRIPTION DU JEU Endetté auprès de mauvaises personnes, qui mettent sa vie en péril, Booker DeWitt, vétéran de la cavalerie des États-Unis, reconverti en mercenaire, a un seul moyen pour effacer sa dette. Il doit sauver Elizabeth, une fille mystérieuse emprisonnée depuis son enfance à Columbia, une ville flottante dans les airs. Dans l'obligation de se faire mutuellement confiance, Booker et Elizabeth vont créer des liens puissants durant leur fuite périlleuse. Ensemble, ils devront maîtriser un large arsenal d'armes et de capacités, que ce soit dans les nuages à bord de zeppelins, à grande vitesse le long des Skylines ou dans les rues de Columbia, avec pour objectif de survivre à la menace de la cité flottante et de ses sombres secrets. CARACTÉRISTIQUES :- La ville dans le ciel : Abandonnez les profondeurs de Rapture et envolez-vous dans les nuages de Columbia. Merveille technologique, la ville flottante est un monde splendide et animé qui renferme un terrible secret. Une mission inattendue : L'action se situe en 1912, où le tueur à gage Booker DeWitt, si il veut rester en vie, doit sauver une fille mystérieuse de la ville flottante Columbia. S'accrocher, glisser et tuer : Transformez les Sky-Lines de la ville en montagnes russes surarmées en glissant à travers la ville flottante et infligez des punitions mortelles. Des failles dans le temps : Ouvrez des failles dans le temps et dans l'espace pour modeler le champs de bataille et changez la tournure du combat en ramenant des armes, des tourelles et autres ressources dans les airs. Des pouvoirs surpuissants : Lancez des boules de feu explosives, envoyez des éclairs et libérez les « murders of crows », des pouvoirs surpuissants que vous pourrez utiliser contre tout ce qui vous oppose. Des expériences de combat personnalisées : Avec des armes mortelles dans une main, des pouvoirs dans l'autre et la capacité d'ouvrir des failles dans le temps et dans l'espace, tracez votre propre chemin à travers la ville flottante de Columbia pour sauver Elizabeth et retrouver votre liberté. Mode 1999 : Une fois le jeu terminé, le joueur peut débloquer le mode de jeu "Mode 1999". Un mode qui procure aux joueurs expérimentés le type de design et d'équilibre que les hardcore gamers appréciaient au 20ème siècle.
ACHETER MAINTENANT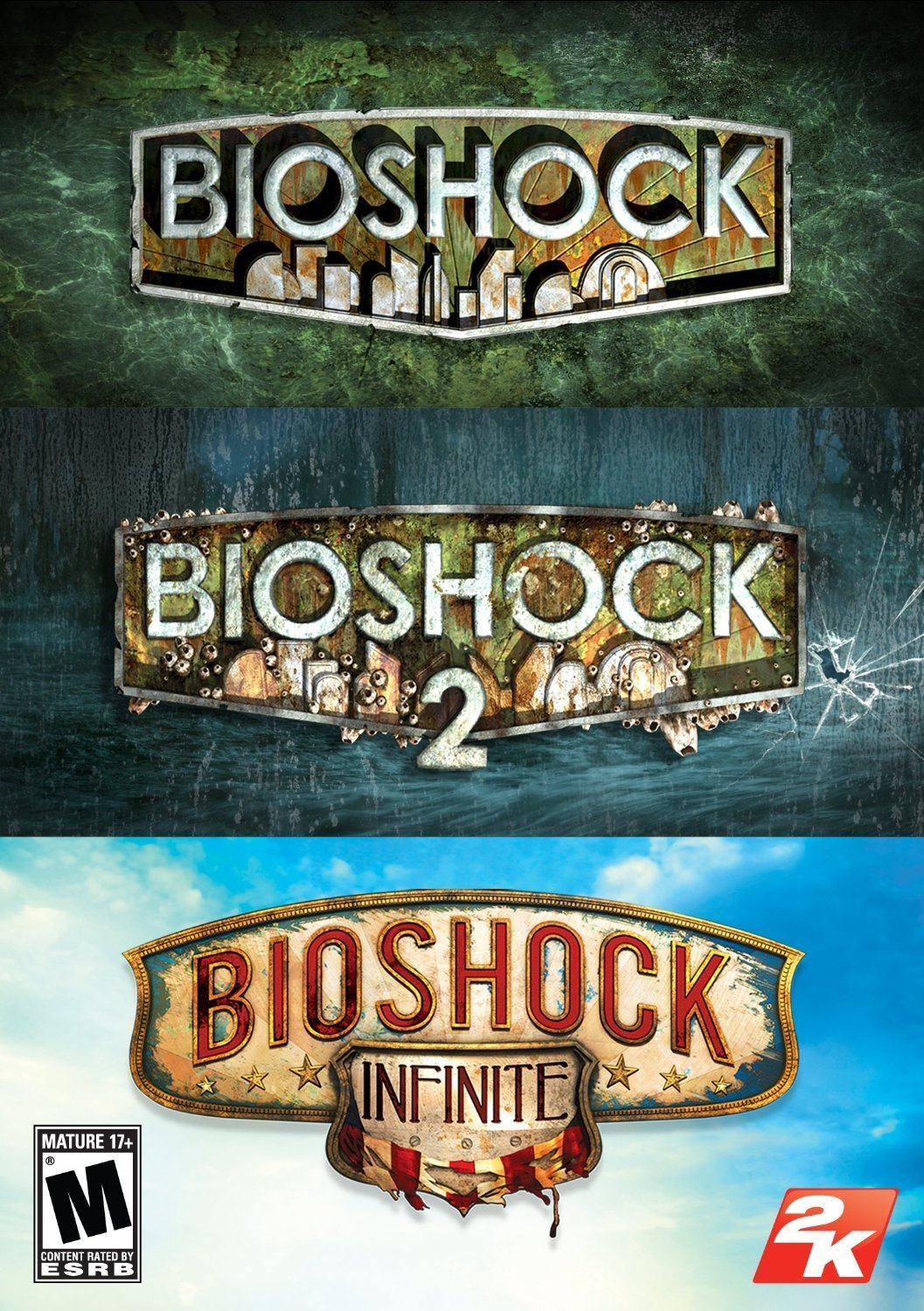 Plateforme:
Région:
Mots clés: ACT FPS
Stock:
Ne plus avoir de produits en stock
Description du produit
BioShock is a shooter unlike any you've ever played, loaded with weapons and tactics never seen. You'll have a complete arsenal at your disposal from simple revolvers to grenade launchers and chemical throwers, but you'll also be forced to genetically modify your DNA to create an even more deadly weapon: you. Injectable plasmids give you super human powers: blast electrical currents into water to electrocute multiple enemies, or freeze them solid and obliterate them with the swing of a wrench. Bioshock 2 Set approximately 10 years after the events of the original BioShock, the halls of Rapture once again echo with sins of the past. Along the Atlantic coastline, a monster has been snatching little girls and bringing them back to the undersea city of Rapture. Players step into the boots of the most iconic denizen of Rapture, the Big Daddy, as they travel through the decrepit and beautiful fallen city, chasing an unseen foe in search of answers and their own survival. Bioshock Infinite Indebted to the wrong people, with his life on the line, veteran of the U.S. Cavalry and now hired gun, Booker DeWitt has only one opportunity to wipe his slate clean. He must rescue Elizabeth, a mysterious girl imprisoned since childhood and locked up in the flying city of Columbia. Forced to trust one another, Booker and Elizabeth form a powerful bond during their daring escape. Together, they learn to harness an expanding arsenal of weapons and abilities, as they fight on zeppelins in the clouds, along high-speed Sky-Lines, and down in the streets of Columbia, all while surviving the threats of the air-city and uncovering its dark secret.