Avira Internet Security Suite 1 PC 1 YEAR Global
In order to activate Avira Antivirus Pro: 1.Start the Avira software by double-clicking the Avira icon. Usually, it is located on your desktop. 2.Click Help and then License management (A new window called Welcome to the license wizard will open.) 3.Type your activation code into the field Activation code 4.Click Next 5.The Registration window opens. Please check if your data are correct and update them if necessary 6.Click Next 7.In the Result window you can see that the license validity has been activated (field: License valid until) 8.Click Finish
ACHETER MAINTENANT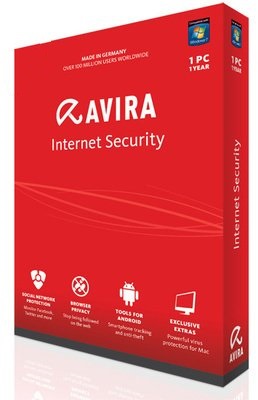 Plateforme:
Région:
Mots clés: Software
Stock:
Avoir de produits en stock
Description du produit
Avira Internet Security Suite is a comprehensive and efficient software solution that provides you with powerful protection functions such as antispam, advanced antiphishing, antibot and parental tools, in addition to the feature-packed firewall. Avira Internet Security comes with an user-friendly interface that can be easily interpreted even by beginners, as all its functions are intuitively presented.

A single product that protects you from online threatswhile improving your PC's performance. Avira's NEW Antivirus Pro is built upon some of the most powerful security technologies in the world. Combining advanced heuristics with the power of cloud computing, we make sure that you have the strongest protection possible.

Key Features:
- Reliable antivirus
- Web browsing protection
- Safe downloads and email attachments
- Secure online shopping
- Technical Support