World of Warcraft EU 60 Days Time Card
Descend into the World of Warcraft and join thousands of mighty heroes in an online world of myth, magic, and limitless adventure. Explore jagged, snowy peaks; vast mountain fortresses; and harsh, winding canyons. Witness zeppelins flying over smoldering battlefields; battle in epic sieges -- a host of legendary experiences await. Enter the World of Warcraft..
ACHETER MAINTENANT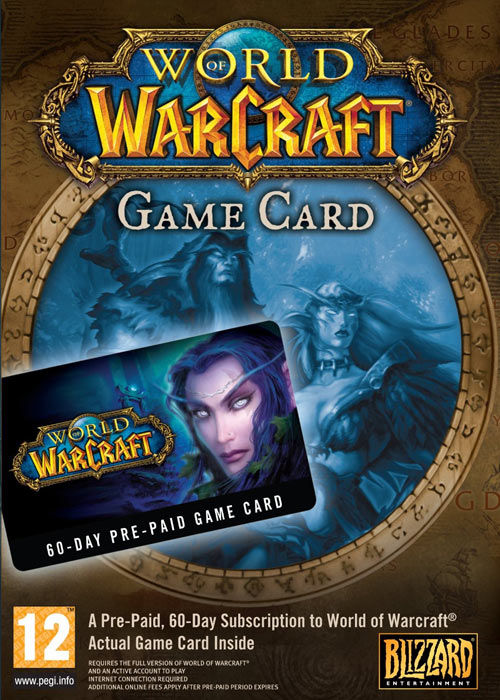 Plateforme:
Région:
Mots clés: Prepaid Cards
Stock:
Avoir de produits en stock
Description du produit
An EU key for PC.

World of Warcraft on PC is a role-playing game massively multiplayer. Within Azeroth kingdom, join forces of the Horde or the Alliance. Create your character from among eight races and nine classes available then join or make your own guild. Make weapons and armors and fight alone or in groups against armies of demons and other creatures more or less attractive.

This time card is equivalent to 60 days of time in the game, so we can extend our adventures in Azeroth two months more. The game world is really huge, and the number of classes to choose, races and lots of weapons, armor and equipment in general, to equip your character, make our heroe truly unique. Evolve your hero, equip it with the best weapons in the world of World of Warcraft, and dive into the immense fantasy world full of dangers.

This code will credit your World of Warcraft account with 60 days of additional game play. Continue your adventures in Azeroth with the most popular online RPG of all time. Extend your time, beef up your character and carry on with your missions, you'll instantly be granted 60 days game time in this land of myth, magic and limitless fun.